DNA Testing in Avondale, AZ
Genetrack offers both legal and private testing options to individuals in Avondale, AZ. Clients in Avondale can choose to proceed with a home kit delivered to their door for private testing, or schedule an appointment at our Avondale location for legal testing.
With a simple at-home test kit, you can conclusively determine whether a man is a child's biological father in the comfort of your home.
For child custody, estate disputes, inheritance, and other legal matters, Genetrack provides court-admissible DNA test results.

For over 20 years, Genetrack has been providing expert DNA testing services for the USCIS and US Embassy. Contact us today to get a quote within 24 hours.
Experience the Genetrack Difference
Genetrack Biolabs has been providing the highest standards in laboratory testing for over 20 years. With state-of-the-art technology, we offer our clients in Avondale and throughout North America an unparalleled level of accuracy and precision in DNA testing services. Trust us for all your DNA testing needs.
If you are located in Avondale, AZ or the surrounding area, we offer a range of DNA testing services that can help you get the answers you need. Our friendly customer service team is here to assist you every step of the way, making the DNA testing process easy and stress-free.
1. Order DNA Kit​
We'll ship everything you need to your home in Avondale - no doctor's appointment required.
2. Collect & Send
Collect your DNA sample using our easy-to-use kit and send it back to us using the prepaid shipping label.
3. Receive Results
Download or view your results from our secure online portal, ensuring that your information is always private and secure.
1. Order Legal Test
Choose the legal DNA test that best fits your needs, including paternity, maternity, sibling, grandparent, and more.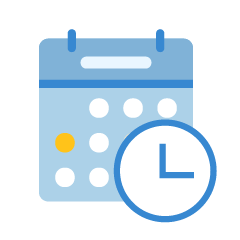 2. Sample Collection
Our team will schedule a DNA sample collection appointment at a location near Avondale or any other location that works best for you.
3. Legal Results
Receive your signed legal report that serves as proof of relationship for legal matters.
Industry-Leading Quality Standards
Our excellence in quality control has earned us a wide range of accreditations, including AABB, CAP, CLIA, SCC, and ISO17025, making us one of the few laboratories in the world to receive all major internationally recognized and prestigious DNA laboratory accreditations.
From paternity to immigration testing, our customers trust Genetrack for accurate and reliable results.
I was in a complicated legal situation and needed a DNA test for my son. Genetrack provided me with the most accurate and reliable results I could have asked for. Their customer service team was also exceptional; I would highly recommend Genetrack to anyone in need of DNA testing services.
I was really impressed with Genetrack's service. They were super professional, which made me feel at ease during the entire process. The staff were really helpful and patient, and they made sure to explain everything to me in a way that was easy to understand. If I ever need DNA testing services again, I'd definitely choose this company.
I had a great experience with Genetrack. The instructions were clear, and the process was fast and easy, I received results much faster than I expected, and the customer service was top-notch. 10/10 - highly recommended for anyone seeking paternity test services!